I know this a big bump but it is a follow up to the original post. Nothing political intended, I'm just so amazed how many views and comments I have gotten on a YT post that I did on a whim because of ED Hill. You can see above where I was in 2014. Check it out now that Trump is president.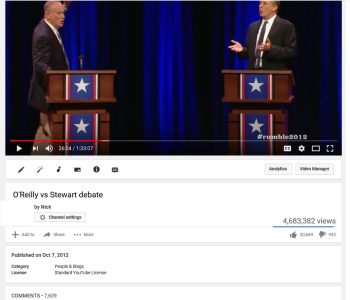 4,683,357 views; Comments 7,609
My next closest is also not a babe post. It trick shooting 2yr old Titus getting hit in the face by DB Kilmeade at 1 million.
Next in 3rd AND 4th place sparty
is Ainsley at 600,000 & 400,000 respectively.
I don't promote my channel in any way so I can't get over the amount of views I sometimes get. Of course Nauert is good for thousands per vid.
Anyone else surprised by their YT experience?