QVC is finally broadcasting HD video in the full 16:9 screen, the wing on the right side is now much smaller and does come off the screen at times.
The old QVC HD feed screen setup was a 4:3 standard definition video frame on the left side of the screen and that static wing graphic on the far right.
QVC HD 5/5 Caps
The only bad thing is during meduim to fast camera and people movement the PQ looks like this,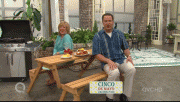 Free Image Hosting by ImageBam.com
I hope they plan on fixing that.